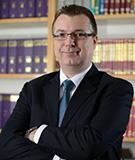 Colin Johnston
BSc, MCInstCES, MHKIS, MRICS
Director – Project Services,
BKAsiaPacific (Hong Kong) Ltd
Quantity Surveyor, NEC3:ECC Project Manager
Key experience:
27 years in
construction industry
27 years experience in the construction industry, 20 years of which have been on projects in Asia Pacific Region, including Cambodia, Hong Kong, Laos, Philippines and Vietnam.
19 years in
senior management
19 years of senior management in professional quantity surveying practice.
Professional
Quantity Surveyor / Project Manager throughout the
project life cycle
Professional experience covers both quantity surveying and project management/employer's representative on construction and fit-out of luxury hotels and resorts, large scale residential, commercial and mixed use developments, breweries, factory buildings and civil engineering works. Such experience covers the full project cycle from feasibility studies, cost planning and preparation of bills of quantities/pricing schedules and tender and contract documents through contract administration to final account and close out.
Claims and expert witness assistance
On the basis of this professional quantity surveying and project management experience, also assists in the preparation/assessment of claims for additional payment. Has also worked under the direction of and assisted expert witness in arbitration in respect of additional cost/loss and expense/damage claims, measurement issues and valuation of variations.
Contact Colin Johnston