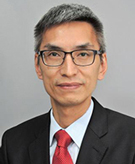 Raymond Chu
BSc(QS), LLB(Hons), LLM(Arb & DR), MHKIS, MRICS, MCInstCES, RPS(QS), Accredited General Mediator (HKIAC & HKMAAL), Accredited Adjudicator (HKIS Panel), Certified NEC Professional
Director – Contract Services,
BKAsiaPacific (Hong Kong) Limited
Chartered Quantity Surveyor, Accredited General Mediator
Key experience:
30 years in
construction industry
30 years experience in the construction industry on projects in Hong Kong and mainland China.
25 years specializing in infrastructure and civil engineering projects in particular railway projects
25 years specializing in infrastructure and civil engineering projects. Hands-on project experience on road, bridge, tunnel, waterworks and drainage works, in particular, on railway projects. Handled capital cost estimates for 14+ railway stations and multi-kilometres of railway lines with construction costs in excess of HK$50 billion. Through these activities has gained in depth working knowledge of building and civil engineering construction, construction procurement and construction management processes, construction law, contract administration and the various standard forms of contract, methods of measurement, specifications and other related documentation.
Commercial and
contract advice
Knowledge in construction, contracts, measurement, costs and quantum is further underpinned by legal knowledge through LLB and LLM studies. On the basis of this experience and knowledge advises employers and contractors on commercial and contractual issues and acts on their behalf in the preparation/assessment and negotiation/settlement of claims in respect of cost/loss and expense/damages, measurement issues, valuation of variations and causes and effects of delays and disruption.
Expert Witness and Accredited Mediator
Appointed as expert witness (quantum) many times in arbitration and litigation. In his judgment dated March 2014, Deputy High Court Judge Burrell described Mr Chu, who was the quantum expert and gave oral evidence in the HKSAR High Court, as "impressive" and "with a high degree of professionalism and expertise". Also a HKIAC and HKMAAL Accredited General Mediator.
Contact Raymond Chu